Día de Muertos a Celebration of life in collaboration with Specialty Coffee Supplier, Roastery, Private Label & Syrups Supplier presents a new blend of coffee specially created for the 2023 Oregon project.
So much work and experience went to mix these two products together. Bringing to you the strong flavors of the southern mountains of Mexico and the aroma of the forest in central America.
Crafted from two extraordinary women-owned coffee estates – This smooth and creamy-bodied coffee is a true delight, with a flavor profile that boasts a perfect balance of sweetness and floral undertones. With every sip, you'll experience the nutty flavors of almond and hazelnut, followed by base notes of brownie and chocolate.
Our award-winning blend is sourced from a female-owned estate in the highly marginalized area of Sierra Azul. We are proud to support this cooperative's efforts to promote access to health, education, and technology in their community. Sierra Azul's E-Café or Escuela de Cafe offers courses on a range of topics, including organic coffee production, beekeeping, poultry production, and worm composting. Additionally, the organization works to preserve biodiversity and protect species at risk of extinction through bird and wildlife monitoring.
By choosing our women-owned coffee blend, you are not only indulging in a delicious cup of coffee, but you are also supporting the empowerment of female entrepreneurs and the betterment of marginalized communities. Join us in celebrating the achievements of these inspiring women and their dedication to producing exceptional coffee.
Español
Elaborado por dos extraordinarias mujeres lideres de sus propias cooperativas. este café suave y cremoso es una verdadera delicia, con un perfil de sabor que cuenta con un equilibrio perfecto de dulzura y matices florales. Con cada sorbo, experimentarás los sabores de la almendra y el avellana, seguidos de notas de pastelitos y chocolate.
Order Now!
1 / 12 OZ Bag  = $19.00
—
2 / 12 OZ Bags = $38.00
—
3 / 12 OZ Bags = $52.00
—
4 / 12 OZ Bags = $72.00
Card accepted
with Pay Pal or Venmo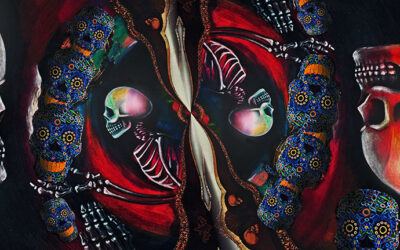 ArtistsDía de Muertos: A Celebration of Life is a creative collaboration with local Oregon artists, and national and international artists. Here is a list of our local artists and guests. This list is updated weekly. SupportersDía de Muertos: a Celebration of life...
Sustainable  That is the ideaFind Objects & MaterialsA sponsor and collaborator in this project, Propulsion Network has a program called Scavengers, a proud unit of individuals powered by ADHD. The project uses objects found at construction sites, garage sales,...