Dia de Muertos Art Exhibit
Propulsion Zone in downtown Portland will host most of the art installations of the 2023 Festival.
November Schedule / Every Wednesday open from 4:00 pm to 8:00pm
Or by appointment please contact art@oregonmuertos.org
Dia de Muertos Ceremony and Aztec Dance and Art installations that will tell the story of the Day of the Dead.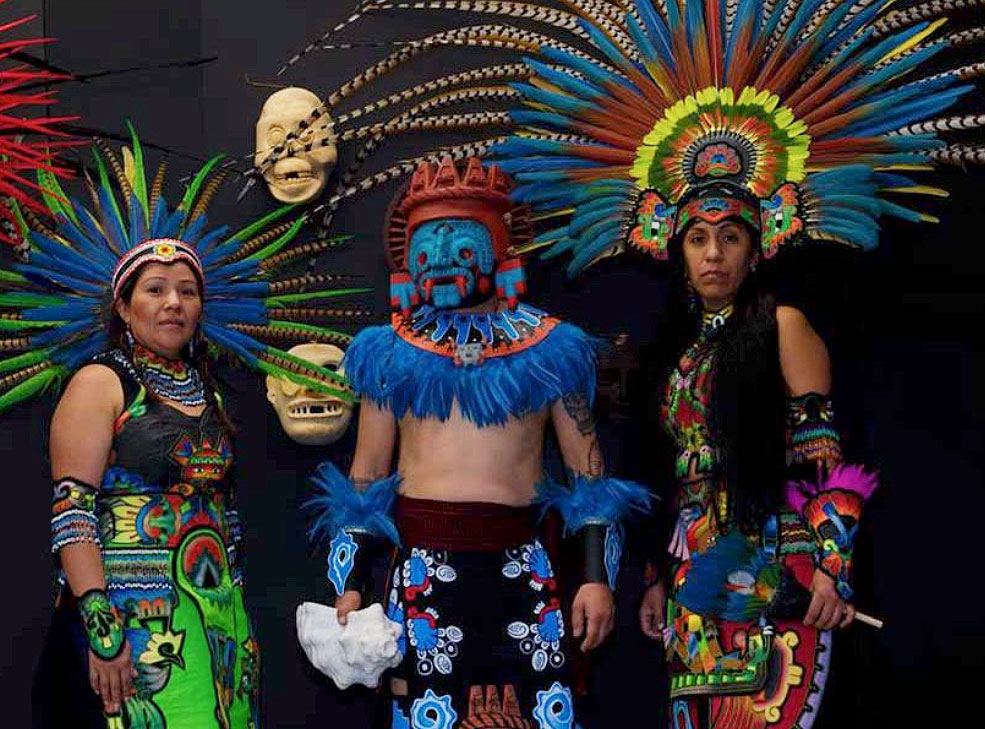 Oregon Muertos.org  Present Huehca Omeyocan Ancestral Aztec Dace. Performing a Day of the Dead Ceremony 7:00pm November 2, 2023

Art exhibit and Day of the Dead installations will be hosted at The Zone:
Oferenda: Traditional unique ofrenda.

The Mictlan: The mythological journey of Quetzalcoatl to rescue the bones of his father in the underworld.
The Alebrije: This is a fantastic creature originally not part of the Day of the Dead. However, Alebrijes are know as cultural icons of Mexican culture these days, so of course we had to include one in the festivities!
The Afterlife Town: An abstract sculptural representation of what the afterlife will be like, based on the tradition. Made from a recycled wood from a 1800 dismantled organ, which was a donation from the Oregon Buddhist Temple.
Posada: Mural created in honor of Jose Guadalupe Posada.
Arbery's ofrenda: Who is allowed to dream? A mixed media sculpture.
Art Exhibit: Printmaking, Painting, photography and sculpture.
Giant skeletons and more.
Español
Las nuevas oficinas de Propulsion Network es un espacio de 6000 pies cuadrados localizado en el centro de Portland Oregon. Este espacio alberga, galeria de arte, lugar para eventos culturales, estudios de grabacion para audio y talleres de grabado, carpinteria, metal, etc. Cinco principales installaciones del festival de dia de Muertos seran exhibidas en este lugar.
WHERE?

Propulsion Zone
818 SW 1st Ave, Portland Oregon
ARTISTS
Martínez Hueca Omeyocan
Alejandro IV Barragán
Eduardo Cruz
Deborah Alastra
Indio sin Dios
Irma Bastida
Hampton Rodriguez
Danielle Bean
Fernando Soto
Victor Miguel Barragan
Maricela Figueroa
Violeta Juarez
Alejandra Luckie
Salvador Salva
Juan Carlos Reyes
Hector Guerrero
Jorge Porrata
Agustin Garcia Reyes
Violeta Juárez
Eduardo Martínez Monroy
Yokebed Islas
Eric Pozos Vásquez
Cocotzin Prieto
Alejandra Luckie
Rebeca Jiménez Marcos
Azul Celeste
Learn more about our artists
DATE & HOURS
November Schedule / Every Wednesday open from 4:00 pm to 8:00pm
Or by appointment please contact art@oregonmuertos.org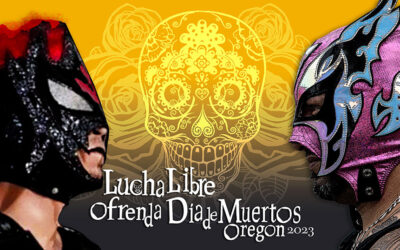 Lucha Libre OfrendaCelebrities of Lucha Libre from Mexico and United States will perform for the Día de Muertos closing event in SE Portland.Casandro El Exotico / 23 minHomenaje al Santo / 4 minMedium / 2:48 minDía de Muertos a Celebration of Life Will Close the...