The Tradition Includes Everyone We Have Loved
Day of the Dead is a celebration of life and all its creatures…
…the bonds with our animals are no different.
Chosen family sometimes comes with fur coats, feathers, or scales. The Day of the Dead includes anyone who enriches our hearts even if they are not human. This is a very special Ofrenda dedicated to our pets, hosted by the family Hernandez by Mount Tabor Park in SE Portland.
The family Hernandez have been spreading joy  to their community through their artistic displays on 60th Ave since they moved to the neighborhood a few years ago.
How to participate:
You can bring a picture and/or a paragraph dedicated to your pet and place it on this public ofrenda.
Español
Aveces la familia que escogemos viene con abrigos peludos, plumas o escamas.
DATE & HOURS
October 17 to November 5 2023
Hrs: Open all day and night.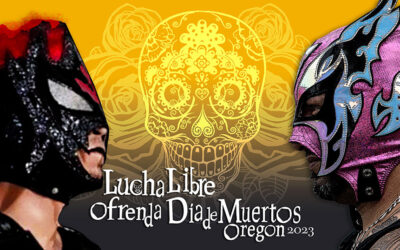 Lucha Libre OfrendaCelebrities of Lucha Libre from Mexico and United States will perform for the Día de Muertos closing event in SE Portland.Casandro El Exotico / 23 minHomenaje al Santo / 4 minMedium / 2:48 minDía de Muertos a Celebration of Life Will Close the...