The celebration of All Saints
The story of the celebration of All Saints' Day begins in the days of Christian Rome. During the 8th century, Pope Gregory III ordered that All Saints would be celebrated on each 1st day of November; however, it wasn't until the 11th century when it was established in monasteries, that the deceased would be remembered every year one day after the festivities of All Saints' Day, on November 2nd. The deceased are actually anyone that has died, not only Saints or Martyrs. 
The origin of the Christian celebration is explored in this altar; it set the date for Day of the Dead as we know it today. 
Español
Historia de La Fiesta inicia en la época de la Roma cristiana. el Papa Gregorio III, en el siglo VIII dispuso que se celebrara el 1 de noviembre a todos Los Santos. No fue hasta en el siglo XI, se dispuso que en los monasterios se rememorara anualmente a los fieles difuntos un día después de la fiesta de Todos Santos es decir Noviembre 2. los fieles difuntos representan en general todo tipo de fallecidos no solo santos o mártires. El origen de la celebracion cristiana es visitada en en esta ofrenda que dio fecha a la tradición actual de el día de los Muertos.
WHERE?
818 Sw 1st ave Portland OR & Mobile Gallery (muerto Mobil)
ARTISTS
Alejandro IV Barragan
Hector Guerrero
Victor Trejo
DATE & HOURS
OCTOBER 17 2023
Tuesday to Sunday
4:00 -8:00 pm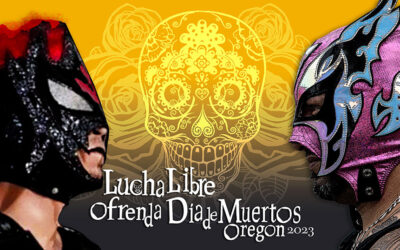 Lucha Libre OfrendaCelebrities of Lucha Libre from Mexico and United States will perform for the Día de Muertos closing event in SE Portland.Casandro El Exotico / 23 minHomenaje al Santo / 4 minMedium / 2:48 minDía de Muertos a Celebration of Life Will Close the...